Name: Conejo
Release Phrase: "Fluff Conejo"
Element: Reiatsu
Represent: Rabbit
Sealed Zanpacktou: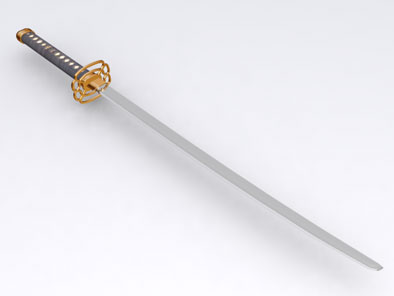 He wields dual Katana's that at the end have a little key chain with a rabbit smiling and giving a peace sign.
Initial Release: A little fluffy tail pops out of Usagi's but and little whiskers start to pop out of his face his ears start to grow a little while his hair turns snow white. His size starts to shrink as well as his feet enlarge slightly and his arm shirnk with him.
Released Description: Usagi completely shrinks to a size a little bit bigger than a rabbit. From the rabbit tail his body starts to become engulfed so that he looks completely like a snow hare he can still speak he has a little pink nose and his body is covered in fur. His hands are nubs and much smaller. His ears fully awaken giving him an amazing sense of hearing. The whiskers enhance his sensory perception so his Pesquisa is doubled with those two abilites it is hard to sneak up on him. A blue aura eminates from his whole body his little nub hands are brighter than the rest of his body be cause he is focusing his reiatsu into a solid form where he can relese it in his attacks. little claws pop out of his little nub hands to create fingers. He can walk on his hind feet in this form but by switching to all fours he can go faster. He can at times wield a Scythe made of pure Reiatsu.
Scythe:
Spoiler:
Ultimate Ability:
Zero Sphere
After Usagi pulls out his scythe and pumps in some energy it glows. Once it starts to glow without seeing it the sphere is created 20 feet in diameter and a complete circle. Inside the sphere is nothing it absorbs the energy of everything that enters it feeding it to Usagi increseing his strength and energy. Any living thing that steps into the circle will slowly be drained of energy this includes animals, plants, etc. The sphere can easily be disarmed by forcing Usagi to let go of his scythe once it is no longer touching him in any way the sphere dissapears and shrinks to a thin layer around the scythe.
(Note: Usagi is inside the sphere and is immune to its effects just gotta say this)
Innate Ability:
BUNNY CLONES!!!!!!!!!
By manipulating his reiatsu Usagi can create clones of himself complete and real copies this idea follows the property of Rabbits having so many children. This attack is effective as that the clones can appear and disappear on his command causing massive annoyance for anyone caught by them. They are sold clones so they can attack and can be hit making it harder to figure out which is the original. The clones can all be defeated by attack the original that is one of the major flaws if Usagi loses focus for too long they will disappear.
Techniques:
Winter's Shield
This technique allows Usagi to alter his reaitsu in a way were it gives him the apperance of blending into his surroundings by releasing it at the opponent. It will alter their senses slightly so that he becomes invisible to all there senses giving him the chance to hide.
Pin Cushion
This allows Usagi to control his reiatsu and send it into his hairs giving him complete control he can use this in two ways. First he uses it to fire his hairs out as as sharp needles that can pierce an opponents skin the more energy he puts into it the sharper the hair get allowing it to penetrate harder objects. After he fires this his hair instantly regrows giving him more shots. The maximum he can fire at a time is 100 little hairs. The second method is that he can create whips with his hair by forcing them to grow they can be used to create spears the he can control with his mind. Similar to DR.Octopus's tentales but mine can extend there is an 100 foot length maximum they can grow but he can only control four at a time if you cut them they will just regrow. The whips can be maintained for as long as needed he can use both methods at a time. The more reiatsu that is pumped into each method causes it to become denser.
Hyper Kick
Usagi focuses his energy into his feet giving them increased strength and speed. The attack causes his feet to begin to glow a much brighter blue the brighter it is the stronger. Once the attack is ready the user can fire of 10 high powered kicks. The energy creates a slight concusion once they make contact with and object. This attack can be used for long range purposes by focusing the energy into a kick and firing directly at the person in the form of an energy kick. This move can not be used in combination with most of Usagi's moves due to the fact he must focus so much of his energy into his feet.