Name: Tenka
Manifestation: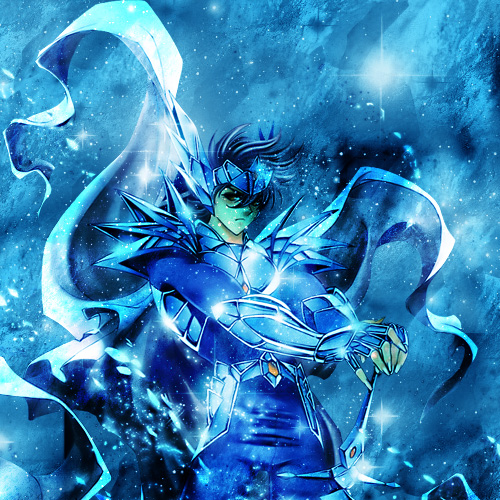 Release Phrase: Spread your Frozen Wings of Death, Tenka
Family: Ice/Snow
Level: Bankai
Sealed Zanpaktou: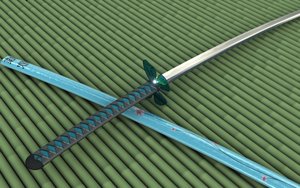 Shikai:
Shikai Ability: It increases his speed, reflexes, agility. Also has the ability to make it hail or snow. His blade with unsheathed glows a light blue color. It also produces a little bit mist off of it to show how powerful of a ice blade it becomes. Whenever it cuts an opponents it paralyzes the nerves in that part of the body for 2 post. After 2 post the nerves in that part of the body gets it feeling again.
Bankai: In Ekochi's Bankai stage his entire body changes as well as his blade. His final form is in the picture.
Bankai Ability: Ekochi's speed increases significantly as well as his power with his ice ability becomes extremely powerful almost becoming unshatterable. His blade stays in a constant state of Ice Shards. The Ice shards can shift into three different forms. The first form is a ice blade which can freeze anything it touches. The blade is over 36 inches long. Even when touching another blade it leaves a nice frost on the blade. Depending how long the blades touch depends on how much and far the frost will cover. The second form is the ice shard that allows him to control the ice shards at will. It can form up to a 1000s pieces that can slice even the hardest of hierro. The 3rd form is a ice whip that can extend up to 30 meters. Once latched on to something it can begin to freeze the object from the inside out but the whip can easily be broken by a blade. The unique ability about his Bankai this body turns the air around him into a frozen mist. Anything with 25 meters is exposed to the mist. The mist makes it hard for the person to breathe. If the opponent stays within the mist to long without getting fresh air one could freeze their lungs. The mist also affects the muscle causing the cold air to flow within the blood stream due to the oxygen which causes the muscle to tense and tighten up. Which causes the muscles to become stiff that slows down speed and reflexes, while weaken one's muscle strength. This effect wears off over time usually lasting only 1 or 2 post only if the person effected is moving. If the user is not moving the effect hurts the body more.
Techniques:
1) Mai of Snow- The user becomes one with the snow by closing his eyes and letting the snow guide his blade and attacks. The user uses the snow in the air and on the ground to detect his opponents movement. As long as something is bending or moving the snow he is allowed to sense its movement. While using the Mai of Snow Ekochi senses and reflexes increase dramatically along with his speed to react due to the huge increase in reflexes. Ekochi does not get a increase in speed when attacking though. Can cover up to a 1 mile radius.(Last up to 15 post, 10 post cool down)
2) Ice Shards- His blades breaks down into about a 1000s of ice shards that can slice the body with ease. The best thing about these eye shards that they reflect the light of the sun making them glow a powerful bright white light. Sometimes having the power the temporarily(1 post because the eyes adjust to the brightness) blind the opponent if the sun is at his bright point in the sky. The tiny shards can take on many forms which make them excellent for attacking and defensive.(He can control them for 5 post before they go back to its bladed form for a 4 post cool down...In bankai form he can completely control them.)
3) Graveyard of Ice- The user drops his blade into the ground that soon the only part showing his the hilt and handle of the sword. The ice shards rush through the ground using the grounds moisture to become powerful and to grow in size. Instantly about a 50 pillars of ice picks shoot up through the ground giving the effect of a ice graveyard. Each Pick is about 7 feet long with a 3 foot width. The special ability of these ice pick is that the user can touch them and they turn into his Zanpaktou. When touched the Ice Pick glows a bright white color before instantly turning into his Zanpaktou. The second ability of these ice picks that they can take damage from Kidos up to 50 and easily take on most ceros as well. Anything more powerful than that causes the ice pick to be destroyed.(Bankai Only)